---
Easy Ice Cream Recipe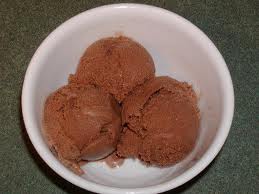 I have seen other fat free ice cream recipes, but they usually call for using egg substitutes and fat free milk or fat free half and half, which is more of a chemistry experiment than a milk product. They just don't sound that appetizing to me.
I don't know if this qualifies as an ice cream recipe, but I had to put this on here. This is so simple and tasty.
Someone posted this on my facebook page and I tried it and was amazed. This really tastes a lot like the real thing.
I now make it all the time. I actually just finished a bowl. That's what made me sit down and write this.
This stuff is excellent, although this ice cream recipe is not sugar free because of the bananas, it is fat free, unless you add nuts.
Give it a try and let me know what you think.
Ingredients
Bananas (frozen)
Everything else here is optional.
Fruit of any kind.

Almond or Soy milk. You can use any type, flavored or sweeetend.
Vanilla
Cocoa Powder

Home Made Ice Cream Directions
I always use really ripe bananas, the riper the better. Some of the ones I use are almost completely black. It is best to peel the banana before freezing, although if you run water over a frozen banana it peels pretty easily but will leave a little of the peel.
Put the banana(s) in a blender and blend until smooth.
Eat.
Pretty tough, huh. I usually ad a couple of droups of vanilla and a couple tablespoons of milk per banana. It really does taste like vanilla ice cream.
Ad a teaspoon of cocoa powder and you have chocolate ice cream. Mix in a few nuts and it gets even better.
Give it a try. Experiment. I sometimes add other fruits like pineapple, strawberries or blue berries.

---
---
Article by:
Steve Howell
---
---
---
Custom Search