---
Sweet Potato Chili Dogs Recipe
If you're looking for a dish that's perfect for a summer barbeque or for a cold winter night in, this sweet potato chili dog recipe is perfect all year round. This paleo chili has a little bit of a spicy punch, which impeccably complements the flavor of buttery, hot, steaming sweet potatoes.
Ingredients for Sweet Potato Chili Dogs Recipe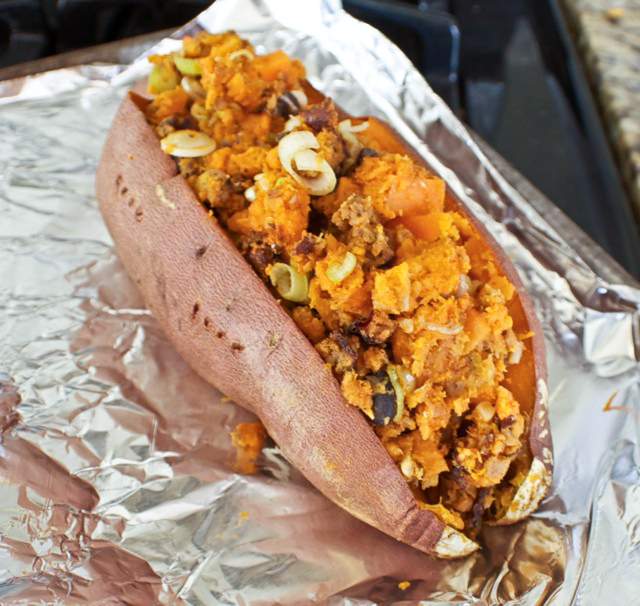 Chili Ingredients:
1½ Lbs grass-fed ground beef
1 Can tomato paste
1 Can crushed or diced tomatoes
4 Cups beef broth
1 Medium onion, diced
3 Cloves of garlic, crushed or diced
1 Large celery stalk, diced
1 Red pepper, diced
1 Orange pepper, diced
1 Jalapeno pepper, de-seeded and diced
3 Tbsp Chili Powder
½ Tbsp Chipotle powder
2 tsp sea salt
½ tsp black pepper
1 Tbsp olive oil


Sweet Potato Ingredients:
6 Medium sweet potatoes
2 Tbsp melted grass-fed butter (optional)
Preparation
In a large saucepan, heat the olive oil over medium-high heat. Once the oil has preheated, sauté the onion, celery, and peppers until soft and beginning to brown, approximately 7-10 minutes. In the final minute, add the crushed garlic and sauté, stirring constantly. Set the cooked vegetables aside in a separate dish or bowl. In the same saucepan, brown the ground beef over medium heat for another 7-10 minutes or until cooked mostly through, seasoning with 1 tsp salt and black pepper. Remove from heat.

In a large stockpot, combine the cooked vegetables and beef, and pour in the tomato paste and diced tomatoes, beef broth, chili powder, chipotle powder, and an additional tsp of sea salt. Mix to combine then bring to a boil over medium-high heat. Reduce the heat to low, then cover and simmer for 1 ½ to 2 hours, or until all ingredients are softened and the chili is fragrant.

While the chili is cooking, preheat the oven to 400°F. Wash and pat dry 4 medium sweet potatoes, and stab each of them 4-5 times each with a fork. Place the sweet potatoes on a rimmed, foil-lined baking sheet and brush each of them with grass-fed butter. Put the potatoes into the oven and bake for 45-60 minutes, or until soft throughout when pierced with a knife or fork. Remove the potatoes from the oven and allow them to cool slightly.

Once the potatoes and the chili are done, slice the sweet potatoes in half, mashing the insides slightly with a fork. With a deep ladle, spoon chili into each sweet potato, and serve immediately. Season the tops with a squeeze of lime and chopped cilantro, or even a small amount of grass-fed cheese if you'd like. Store the chili in an airtight container in the fridge for 1-2 weeks, or the freezer for 2-3 weeks, and the potatoes in the fridge in an airtight container for up to a week.
---
---
Article by:
Steve Howell
---
---
---
Custom Search