---
Vegan Blueberry Lemon Crepes
Ingredients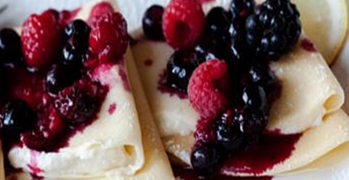 1 cup almond flour
1 cup coconut milk
½ cup water
¼ tsp salt
¼ cup coconut oil
4 tbsp honey
1 cup blueberries
4 tbsp lemon juice
Preparation
1.      In a medium saucepan add the blueberries, lemon, honey and 1-2 tbsp of water. Cook over low heat for 5-10 minutes until blueberries are soft.
2.      In a large bowl, mix together the milk, honey, flour, milk, oil and water, and stir well to combine.
3.      Lightly oil a crepe pan or small non-stick pan, warm over medium heat and pour 1/4 cup of the mixture. Cook the crepe for approximately one minute each side.
4.      Remove from pan and repeat the same process until all the crepe mixture is used.
5.      Place the crepes in a serving plate and top with blueberries.
6.      Serve and enjoy!
---
---
Article by:
Steve Howell
---
---
---
Custom Search