---
Suggested Sites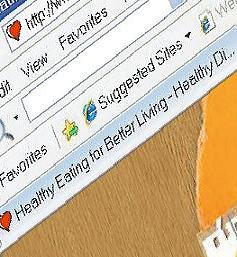 Here you will find links to useful and informative sites. At Healthy Eating for Better Living, I try and only put sites on here that will help to inform you about how to live a healthy and better life. I also put link exchange sites at the bottom.

If you find one that doesn't belong, please inform me so I can review it or if you want to suggest a site, please use the form on the feedback page.
---
---
Health and Weight Loss
Recipes by The Everyday Gourmet
Learning to select and use fresh, beautiful ingredients and basic cooking techniques will move you from ordinary to extraordinary! 
This site is dedicated to help you discover real solutions to achieve amazing weight loss. Our solutions are all natural and easy. You will feel terrific and it works!
This is a great site for tips on how to naturally treat cancer. Cancer is NOT a Death Sentence! Cancer Treatment can be both Natural and Effective. A Proven Remedy that has healed many.
This site is to help you control your diabetes with exercise, medication and free diabetic friendly recipes.
---
Discover healthy diet living and how to lose weight naturally through healthy eating. Find a range of great healthy recipes, diet advice and real experiences that will help you reach your goal.
---
Exercise and Fitness

A gym instructor's advice for free, get fit, lose weight and gain muscle by reading my quality advice, for free! :)

---
Vitamins and Supplements

Learn the benefits of and how to get vitamin D.
---
Other
How to use Craigslist to make money

---
---
---
Article by:
Steve Howell
---
---
---
Custom Search