---
Paleo Eggs Benedict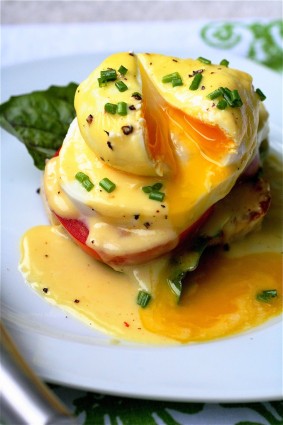 This paleo twist on the classic eggs benedict recipe is an excellent addition to any casual morning or Sunday brunch. Plus, the combination of vegetables and healthy fats in this meal will help jumpstart your brain, deliver your body important vitamins, antioxidants and fiber, and help you feel satiated. For dairy‐free paleo dieters, other high‐fat warm oils (such as avocado or olive oil) can be used in place of the butter, though this may change the consistency and taste of the hollandaise slightly. Consider rounding out this meal with a side of seasonal fruit, or bake up some sweet potato hash browns for some complex carbohydrates that will fuel your body all day long!
---
Paleo Eggs Benedict Ingredients
3‐4 Slices organic, grass‐fed bacon – cooked crispy
4 Eggs 1 Medium tomato, in ½ inch slices
1 Medium Avocado, halved and cut into ½ inch slices
½ cup fresh spinach, washed and dried
---
Hollandaise Sauce Ingredients
3 Egg yolks 2 – 3 Tbsp fresh squeezed lemon juice
6 Tbsp grass‐fed butter, melted
½ tsp Sea salt (optional)
Pinch of Ground pepper (white, black, or cayenne)
¼ tsp Paprika or more to taste
---
Directions
Fill a saucepan with 2 to 3 inches of fresh water and set it on the stove over medium high heat.
While the water is heating up, prepare the vegetables and cook the bacon.
Bring the water just to a boil, then turn down and allow it to simmer. Stir the water gently with a slotted spoon in a circular motion, then very carefully break an egg and slide the yolk into the moving water. Keep stirring the water gently to ensure that the egg doesn't stick to the pan.
After the egg is cooked to your preferred doneness, remove it with a slotted spoon and allow it to dry on a paper towel, patting the top dry if necessary. Repeat with the remaining eggs.
Layer the avocado, spinach, and tomato slices and place one egg on each stack of veggies.
To make the hollandaise sauce, melt 6 tablespoons of grass fed butter in a small saucepan over medium heat, stirring frequently to prevent burning.
Put the egg yolks, lemon juice, pepper, and salt into a food processor or blender. Blend the ingredients together for 3‐5 seconds, then very slowly begin drizzling the melted butter into the running food processor. If the butter is poured in slowly enough, the mixture will emulsify and become very thick and creamy.
Once you've poured all the butter in, allow the mixture to blend for a few more seconds. Pour the hollandaise over the eggs immediately, then crumble bacon over the top and sprinkle lightly with paprika. Serve immediately!
---
---
Article by:
Steve Howell
---
---
---
Custom Search