Hearty Mushroom Stroganoff
(Serves 4)

Vegetable cooking spray
1 onion, chopped
8-12 ounces seitan cutlets, cut into chunks
1 carrot, finely cut or shredded
1 clove garlic, minced
1 cup sliced button mushrooms
6 to 10 dried or fresh shiitake mushrooms sliced (If dried they need to be soaked for at least 30 minutes
 and then drained.)
1 Tablespoon Bragg liquid amino acids, lite tamari, or low sodium soy sauce
5 ounces silken lite firm or extra firm tofu
1 Tablespoon lemon juice
1 Tablespoon arrowroot
1 teaspoon sweetener
Freshly ground pepper, to taste
1/4 cup chopped parsley, for garnish

Spray a wok or large saute pan with cooking spray. When the pan is hot, water saute the onion and seitan for 2 to 3 minutes. Add the carrot, garlic, and mushrooms. Cook until mushrooms release their water. Add liquid aminos and cook until almost all absorbed.
While the mushroom mixture is cooking blend the tofu, lemon juice, arrowroot, and sweetener in a blender or food processor until smooth.
Turn off heat and add the tofu mixture. Stir to combine. If heat is too high the tofu mixture will break apart and curdle. Add freshly ground pepper. Top with parsley and serve over hot noodles.

Total Calories per Serving: 135
Fat: 4 grams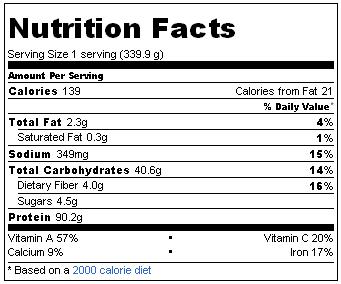 ---