SANDRA'S SPICED LEMON-HONEY REFILLABLE TEA BASE
by Sandra's Alaska Recipes
(Juneau, Alaska USA)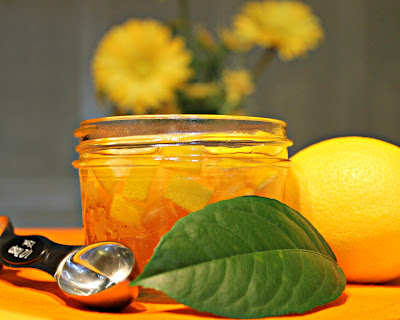 A perfect anytime hot tea beverage that's heavenly during the cold months. It's also very soothing on sore throats or when you feel other symptoms of a cold or flu...
Yields: 1 cup
Prep: 5 Mins.

A very, very easy tea base to prepare in a matter of minutes that you'll enjoy for months. I initially tried this using only lemon and honey, although I found that I prefer it more so with the addition of infusing it with a fresh slice of ginger and ground cardamom.

INGREDIENTS
--(I used organic)

1 meyer lemon (or regular), chopped, with seeds removed
½" thick slice of fresh ginger
1/8 teaspoon ground cardamom
Honey (enough to cover mixture)

METHOD

Combine all ingredients, in order listed, in a sterilized ½-pint (1 cup) mason jar. Cover jar, and store in refrigerator for 3 days. You'll notice that the lemons start to melt into the honey, which thins the mixture turning it into the consistency of marmalade.

To prepare, drizzle 1 teaspoon of tea base into an 8-oz. cup of hot tea; stir, and serve.

If you prefer a hot toddy, then add a tablespoon or two of your favorite spirit (my occasional preference is rum on a cold and snowy winter night).

Refill tea base on an as-needed basis with the above ingredients, storing for up to a total of 3 months. I also prefer to stir the tea base once in a while, which is easy to do just before adding it to a cup of tea.

This tea base would be a great gift to provide to friends and family. ~ Enjoy!